Five months after his election as mayor, Marvin Rees revealed an ambition which had never been mentioned in his manifesto – to encourage tall buildings in Bristol.
Here are the tall buildings that Bristol now faces:
Castle Park View (Developer: Linkcity/Bouygues) 17/04267/F
26 storeys
Site was within the Old Market Quarter Neighbourhood Development Plan (OMQNDP) area, but the requirement to consult OMQNDP was ignored by developers and council.
Old Market Community Association account here
Redcliffe Quarter: (Developer: Change Real Estate, now another developer) 16/02349/F
Permitted on 14 Dec 2017. This is a massive development.
22 storeys: will be visible from everywhere in the city
The new owner is seeking to lower the height of the tower and raise the height of the other buildings.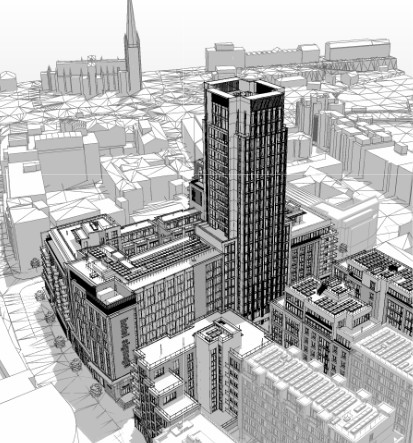 Former Fire Station (Developer: Cubex) 19/01255/F
16 storeys at highest point. Huge. Objections from the City Design Group, Historic England, and Urban Design Forum, but officer recommended approval.
Permitted in December 2019
Gardiner Haskins (Soapworks) (Developer: First Base) 20/01150/F
20 storeys: not yet permitted.
But will be soon – merely held up by developer wishing to keep the use flexible, which did not please the Development Control Committee.
Student, residential buildings + school on Silverthorne Lane
(Developer: Square Bay) 19/03867/P
The tallest is 17 storeys
Permitted on August 6 2020
Held up by flooding concerns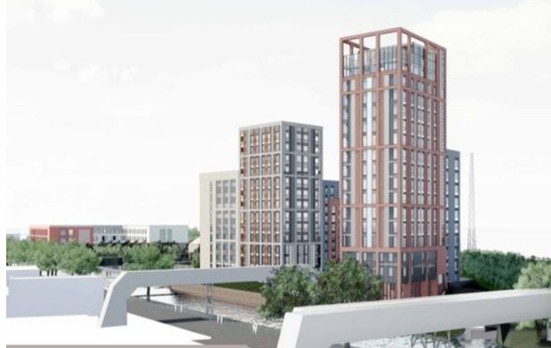 Temple Island student accommodation (Architects: AHMM)
Permitted in December 2019.
22 storeys, 16 storeys and 9 storeys (a little lower than original proposals)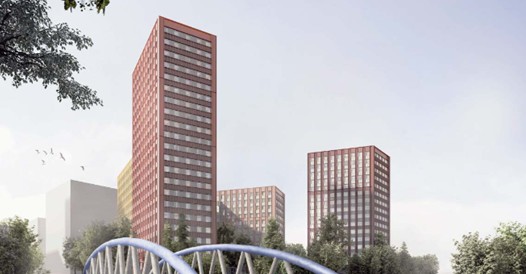 Probable buildings coming up in central Bristol:
The northern edge of Castle Park – tall tower?
The former Arena site: 10 blocks of up to 24 storeys?
Bedminster (below) is the city's most contested area. The council made informally clear to developers that the area should have tower blocks. Developers piled in chaotically and without co-ordination, bidding up land prices, no MasterPlan having been developed by the city. Eventually consultants Nash Partnership were called in to master-plan, aggressive heights having been put into the Urban Living SPD and into the Local Plan.
A residents' group, Windmill Hill and Malago Community Planning Group (WHaM), has continuously challenged the proposals. Some heights have been reduced, some designs have been improved, but it is a wearysome process with developers appealing rejections and, when the appeal is refused, coming back with new proposals only marginally different from the original.
Little Paradise Street (Plot 4) (Developer: Dandara) 18/06722/F
Permitted October 2020, despite strong City Design Group reservations over height, high proportion of single-aspect flats (64% in private, 72% in affordable units), and worries about daylight
6% afforable (21 out of 316)
16 and 14 storeys
St Catherine's Place (Plot 2) (Developer: Firmstone) 20/04934/P
A new 14 storey application, with no affordable housing, was approved in March 2021.
Committee members followed BCC officers' recommendation to refuse the original application, despite a height reduction from 22 to 16 storeys. An appeal against this refusal was dismissed in February 2021.
0% affordable out of 180 flats
Pring Hill Site / Malago Road (Plot 1) (Developer: a2 Dominion) 19/00267/F
The original 12 storey application was recommended for refusal by officers and was in fact refused in September 2019 – so an appeal was launched
In April 2021 the appeal was dismissed.
7% affordable (40 out of 590)
No new application has yet been made.
Dalby Avenue (Plot 3) (Developer: Sydney Freed) 20/05811/F
Plans submitted in December 2020
Multiple buildings up to 9 storeys
No decision yet
0% affordable (out of 837 student units)
One of the most worrying developments, given its multiple impacts – but with City Design Group input, cladding changes and a little height reduction has improved it
Triangle between Malago Road, Whitehouse Lane, and Hereford St (Plot 5) (Developer: Dandara)
Still in consultation – three buildings, with the largest up to 10 storeys, yielding 105 affordable homes our of 350
The buildings wrap around Bedminster Green.
Totterdown
Bath Road, Totterdown (Developer: Yarlington Housing Group) 18/04620/F
17 storey tower, plus other blocks
Approved March 2019
Commentary:
Marvin Rees' desire to bring more tall buildings to Bristol meant rewriting the city's planning law (see account of how it was rewritten). To do this, Rees appointed councillor Nicola Beech, previously a developers' PR, as head of planning. She pushed through a new Supplementary Planning Document (SPD) "Urban Living" in 2018 to replace the 2005 SPD (which had protected Bristol from tall buildings (see comparison of new SPD and previous SPD). This new document then had to be consulted on, by law. Residents, ordinary citizens, architects and amenity societies, in the largest response to any consultation in the history of Bristol, overwhelmingly rejected tall buildings. This response was ignored by Rees and Beech.
While densification of city centres is often good, helping make cities walkable and helping support public transport, the densest cities in the developed world are not US cities with towering high rise centres, nor UK cities following suit like Leeds or Manchester, but historic mid-rise continental cities like Barcelona and Paris.
These dense European cities are more beautiful, more sociable, pleasanter to be in than the US cities. They have gentle mid-rise centres, connected by good public transport (typically trams). So why are we rushing to go high when it is not necessary? The argument 'for' – which pleases developers – is based on false logic, as has been eloquently argued in Bristol before the Bristol Civic Society by UCL's Professor Philip Steadman, Create Streets' David Milner, and Bennetts Associates Rab Bennetts.
Mid-rise densification can house as many or more residents (see Steadman), is more sustainable because it uses less carbon (see Bennetts), makes residents happier (see Milner), and will produce many more affordable housing units, because it is less expensive to build per square metre. It is also more beautiful which, research suggests, in the longer-term is likely to increase Bristol's prosperity by attracting talent to the city.
Sources of information on planning applications:
Centre / Castle Park / Redcliffe: No organisation tracks applications in this area. The best source is the Bristol Civic Society (BCS) Planning Issues Status page, and Planning Issues, and Planning Archive. There is also a BCS twitter, which frankly needs more effort: @BristolCivicSoc
Bedminster. The best source is the WHaM site and, for keeping up to date, the WHaM Facebook group: https://www.facebook.com/groups/1511895115798962
Totterdown / Bath Road. A source is Totterdown Residents Environmental and Social Action (TRESA) , though it is primarily social. More useful for keeping up to date is TRESA's twitter: @TRESAci
City-wide: The best source is the Bristol Civic Society. The Neighbourhood Planning Network has an excellent Current Topics page. Specifically on high rises: https://www.facebook.com/groups/169400953696154.